Did you know that you can test drive your destination wedding at a resort? You surely can! Maybe you're not sure of the exact location to tie the knot or perhaps just want to see if the area you did choose is ideal. At Sandals and Beaches Resorts, you're able to take the area for a spin and spend a couple nights at a special rate. This is a great solution to those who may be worried about planning their destination wedding or elopement as the package offers a variety of wedding planning essentials to help put your mind at ease. Carlie of 2 Travel Anywhere is here to break down everything you need to know before committing to your "I do" spot!
Tell us more about hosting a destination wedding at a resort!
Carlie: Considering a destination wedding, but unsure where to begin? I would recommend to consider Sandals Resorts or Beaches Resorts for your destination wedding. The difference between these two options? Beaches is for all ages and Sandals is all adults. With 7 different options in the Caribbean Islands there are no shortage of beautiful settings to officially tie the knot. Each resort has a team of wedding experts who are dedicated to brides and grooms in the planning journey making Sandals Resort the ideal destination wedding choice! Unsure if Destination Wedding is right for you? Be sure to TEST DRIVE the resort. Starting at $275 Per Couple Per Night.
Is there a specific number of times you would recommend visiting the destination to plan your wedding?
Carlie: The Details of a Test Drive at Sandals Resorts or Beaches Resorts for a two-night jaunt at a special rate to sample a Caribbean wedding and honeymoon experience. Should you decide to have your wedding at any Sandals or Beaches Resort, you and your fiancée will receive a credit up to $1125 when you book your wedding group of 5 or more rooms. The Test Drive Your Wedding at a Sandals or Beaches Resort package includes: a round-trip airport transfer, luxurious accommodations, resort tour and meetings with the on-resort wedding planners and SnapShots® Photography Team, champagne and cake tasting (red velvet included!), wedding décor sampling, a complimentary 5×7 photograph, a romantic dinner for two at a resort speciality restaurant with white-glove service, and complimentary bottle of sparkling wine. Additionally, you'll enjoy all the usual luxury opportunities all couples can experience at Sandals or Beaches Resorts like Discovery Dining at up to 19 different restaurants, enjoy unlimited top-shelf premium drinks and Beringer wines, countless land and waters sports, access to the Red Lane Spa, and nightly entertainment. The works and general awesome-ness!
How do you recommend Test Driving your destination wedding at a resort?
Carlie: We know that a part of planning a wedding, whether at home or anywhere in the world, involves a lot of trials and sampling. Couples sample caterers and bakeries, brides go through hair and make-up trials and both bride and groom try out wedding outfits before they buy. With WeddingMoons' new "Test-Drive", couples can now try out their entire destination wedding before they commit. As if that wasn't awesome enough, couples can also do a trial-honeymoon to make sure the location is as romantic as imagined. Who does that?!
Are there planners and staff on board at the resorts to help facilitate your wedding?
Carlie: Yes you have a pre-travel planner, onsite wedding planner complimentary to help guide you through all the wedding planning details. The guidance and help with Carlie Finch the owner of 2 Travel Anywhere LLC who has personally been to every Sandals and Beaches Resort herself as well.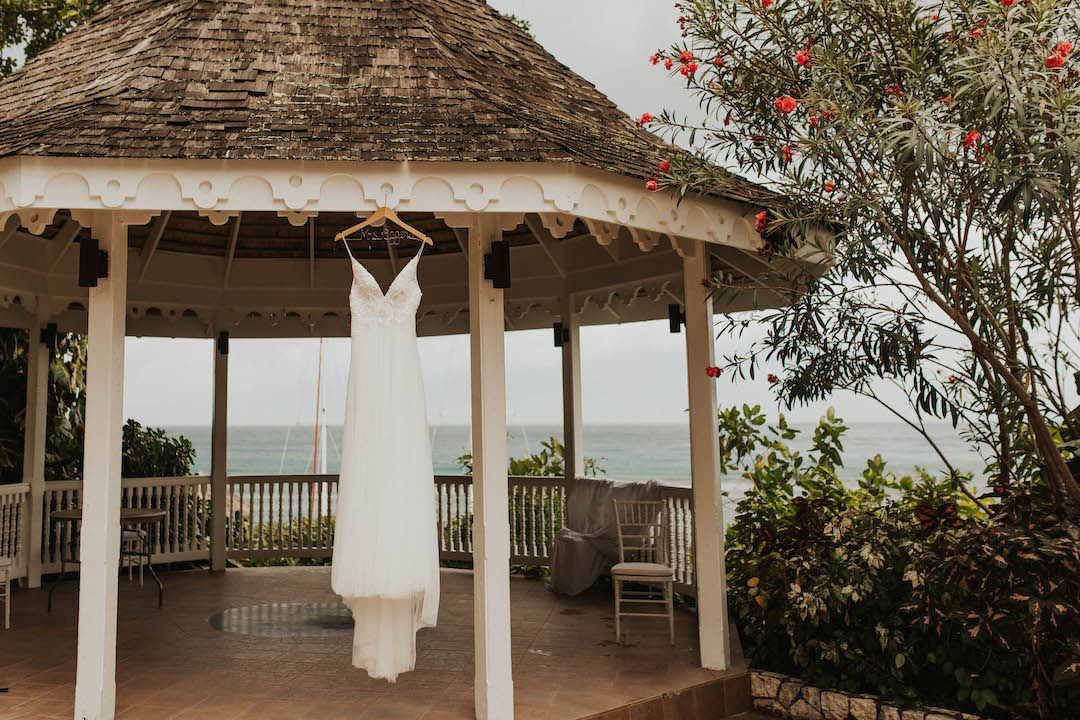 Are all of the weddings all-inclusive?
Carlie: Yes all the Sandals and Beaches Resorts are all inclusive. All your food, drinks, premium alcohol, taxes, gratuities, activities and more are all included with the resort. PLUS the following wedding things are included: a personal wedding planning team, a pre-travel team and onsite team that will take of all the details, preparation of marriage documents, wedding locations – upgrade costs for certain locations such as over-the-water chapel, white chiavari chairs with white cushions, pre-recorded music for your ceremony, one hour cocktail reception, signature cocktail for the bride and groom, 15% Red Lane Spa service free, wedding website and gift registry, honeymoon dinner with white-glove service, turndown service the first night of your honeymoon, honeymoon mimosa breakfast in bed, complimentary 5×7 wedding photo, and more! Also included are the wedding cake, bridal bouquet of fuchsia dendrobium orchids, groom boutonniere of fuchsia dendrobium orchids, reception and more.
Is there anything else you'd like to share about test driving your wedding at a resort?
Carlie: The longer you stay the more you will receive. Up to $1500 in premium perks when you stay seven nights or longer. Up To $500 towards license and administrative fees. $500 towards room upgrade. $200 photography credit on select packages. $200 anniversary or videography credit on select packages. $100 towards scuba, snuba, cabana, or candlelight dinner.
This is incredible!! Ready to test drive your destination wedding? Reach out to Carlie at 2 Travel Anywhere!
Nashville Bride Guide Directory Members
The below businesses are a part of the Nashville Bride Guide business directory. Visit their portfolios to learn more and inquire about their services.
2 Travel Anywhere
Elopements