I am absolutely in love with a lot of the new traditions that are happening in Nashville weddings as of late… and this is one of my favorites! This gorgeous couple Megan + Scott had recently wed in Nashville and opted for a post-wedding portrait shoot with their photographer/videographer Cannon Weddings! The team ventured out on a stunning cliff location at Narrows of the Harpeth for a shoot that was unforgettable. Take a look below at all of Becca's photos along with the inside scoop on the couple + shoot!
Megan + Scott
Narrows of the Harpeth
12.16.17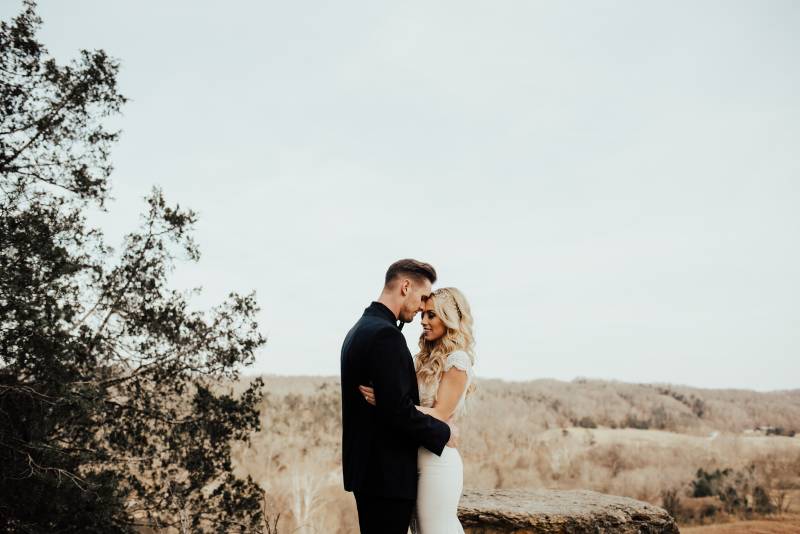 Tell us all about Megan + Scott!
Becca: Megan and Scott are so enthusiastic and big dreamers! They are extremely passionate and creative people. Not to mention they are on point a model couple. Megan has a fashion blog, so being within the fashion industry, she wanted to make sure she had the perfect dress! I think Megan's dress was the talk of this shoot. She looked absolutely stunning. Megan and Scott love to travel and for their first month of marriage that's basically all they did!
Tell us about the shoot vision!
Becca: Megan and Scott moved to Texas after getting married in Nashville. In December, they came back to get some more amazing footage to put in their wedding video filmed by our team Cannon Weddings. While on this video shoot I, Becca Cannon, wanted to come and take photos because I couldn't miss this opportunity! These photos turned out to be some of my favorites and the whole vision of the shoot was specifically for the video. I think it was a win win.
Thank you so much for sharing this beautiful shoot with us, Becca! You can check out more on their photo and video team at Cannonweddings.com. Also check them out on Instagram for the latest scoop!
Sources