If there's one word to describe Anne + Brandon's Nashville wedding, it's magical! Anne being a descendant of the Carter family, the couple chose to host their wedding in a place that holds so much meaning: the rotunda of The Country Music Hall of Fame. There was so much thought behind why Anne and Brandon planned their wedding the way that they did — each one just as heartfelt as the next! From their first look to exiting their reception, their day will for sure put a smile on their face. Their good friend, David Archuleta even flew in for the occasion to sing their first dance song and the way Anne describes it make us feel as though we were there. Check out the interview below with the bride as she shared all the details about this special day and get ready for these photos and wedding video captured by SheHeWe Photography to pull at your heartstrings!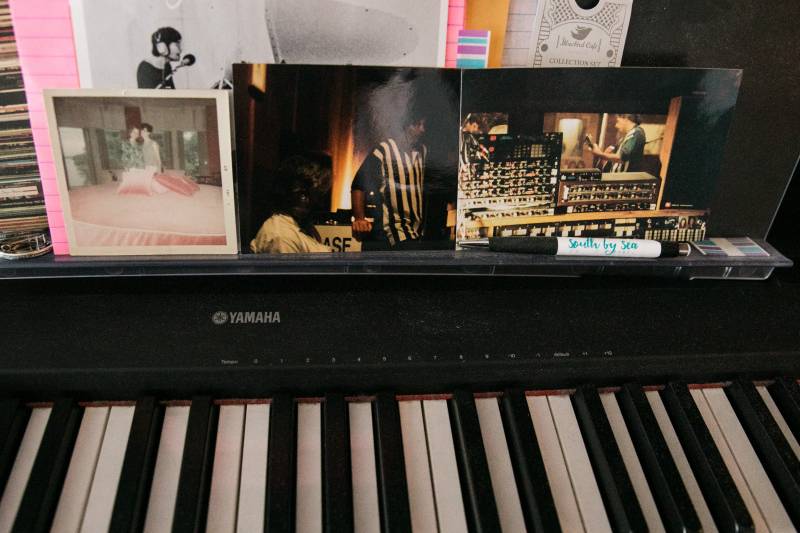 Anne + Brandon
Country Music Hall of Fame
Guest count ~ 250
Tell us about your engagement!
Anne: Our engagement was one of dreams! We had planned a trip to Paris, France to celebrate my birthday in January 2018. On that exact day 10 years earlier, I had flown there for my birthday to study abroad at the Sorbonne for a semester. A few years later, I returned to intern at the U.S. Embassy in Paris for three months. I wanted to go back to a city that meant so much to me on the 10th anniversary of my first trip there, so I did, and Brandon (my now husband) tagged along.
We spent several days exploring, and on our final day there, we decided to make a music video for one of my new songs (I'm a singer/songwriter who goes by WILDWOOD. All day, we filmed in various spots including Notre Dame, Pére Lachaise, the Latin Quarter, on bridges over the Seine, and we planned to end at the Eiffel Tower when it was lit up at night. (Little did I know the entire music video idea was a ploy for Brandon to get us back to the Eiffel Tower at night so that he could propose!) For several minutes, in front of a glowing Eiffel Tower, Brandon filmed me for the music video. Then, as soon as the Eiffel Tower started sparkling as it does briefly once every hour at night, he stopped the music and asked, "How do you say 'I love you' in French?" I responded, "Je t'aime." Then he asked, how do you say, 'The Eiffel Tower is like a diamond in the sky?'" I responded, "La tour Eiffel est comme un diamant dans le ciel." Next, he asked, "How do you say, 'Will you marry me' in French?" I replied, "I have no idea, I've never had to learn that one before!" At that moment, he got down on one knee, pulled a ring box out of his coat pocket, opened it, and said, "How about in English… Will you marry me?" I said yes, and the rest is history.
What was the vision for your wedding?
Anne: When we sat down to come up with a vision for our wedding, Brandon and I came up these words: timeless, elegant, unique, remarkable, and memorable. We wanted to create a magical night full of surprises for our guests. We selected the Country Music Hall of Fame & Museum as both our ceremony and reception venue for several reasons. First, Brandon and I met in a recording studio in Nashville in 2014. I was creating my first EP, and he was a music producer. We thought hosting our wedding in the town where we met 5 years ago would be appropriate. Second, I am a descendent of A.P. Carter of the Carter Family, a musical group in the Hall of Fame who made famous the iconic "Will the Circle Be Unbroken" song that has become an anthem for country music. All of my grandparents have passed away, and so have several of my musical uncles, aunts, and cousins who got me started in music when I was just a young girl, so doing the ceremony in the rotunda of the Hall of Fame was a way to include all my relatives who are no longer with us.
What was your theme and what inspired it (e.g. farm, garden party, contemporary, modern, vintage, etc.)?
Anne: The theme for our wedding was modern elegance with a dash of whimsical, plus a big focus on music. We chose classic red roses and lush greenery to be the majority of the decor, and Geny's Flowers went above and beyond to bring that vision to life. We also incorporated gold and silver metals. My bridesmaids wore floor-length black dresses of their choosing, and the groomsmen wore bow-ties and suspenders in a deep red with black slacks and white button-up shirts. We wanted music to be a huge part of our wedding, given the venue and both of our passions for and careers in music, so we had custom guitar picks made with our initials and wedding date as a favor for our guests. We also tied in musical elements throughout: we had a solo cellist play special songs during our ceremony, including "Will the Circle Be Unbroken" and "La Vie en Rose" as an ode to our engagement in Paris. Our guests got to tour the museum while we took pictures. Our friend David Archuleta sang our first dance, while a dozen of our musician friends popped up from their tables around the hall to create a symphony of musicians while we were dancing. At the end of the night, I surprised my husband by singing "Can't Help Falling in Love with You" with the band. It was an especially tender moment. We selected the date of November 17th to honor my husband's late sister, Shalane, who passed away at a young age. That date was her birthday, and we wanted to include her in a very special way.
Can you share any special moments or highlights from your wedding day?
Anne: So. Many. Highlights. How do I even begin to describe them? My husband and I chose to write vows to each other and read them privately before the ceremony. We did so at our first look, on the rooftop of our condo building downtown. What was so special is that our vows mirrored each other's: for example, he said "I love that you're my cheerleader in life," and I said, "I promise to always be your cheerleader in life." It was a really heartfelt moment, and my husband's personal highlight of the day. Another special memory was when my mom laid a wreath on the Carter Family plaque in the rotunda of the Hall of Fame. The cellist played an emotional, powerful version of "Will the Circle Be Unbroken," and it was an incredibly spiritual moment. I felt so many of my family who are not longer living were present in spirit, and I'll never forget that.
My personal favorite moment of the entire night was our first dance. We decided on the song "A Million Dreams" from the movie The Greatest Showman. Both my husband and I are dreamers, and it couldn't have been more fitting. When we first picked our song, we were in the studio listening to this soundtrack to get strings references for an album we were recording. That song came on, and we started listening to the lyrics, and by the second verse, we both started crying. We knew it was our song. We took ballroom dance lessons with Jaimee at Nashville Ballroom & Co. to surprise our guests with an over-the-top first dance. Our friend, and former American Idol runner-up, David Archuleta sang that song for us, and we start the dance basic-style (think middle-school dance). At the start of the second verse, we busted out our ballroom dance movies a la Dancing with the Stars, and our guests went wild! One by one, a dozen of our musician friends stood up with guitars, melodicas, mandolins, and violins, surprising all our guests with a flood of beautiful sounds from all directions. It was the most dreamy, magical moment, and we will never forget gliding along the conservatory floor in the Hall of Fame, dancing to David's sublime voice, hearing all our friends playing along on their instruments.
One more favorite – The Painted Cupcake not only designed a beautiful, elegant white wedding cake for us (with layers of caramel and chocolate frosting), but owner Tracey and her husband also went above and beyond to build a custom groom's "cake" for us. The inspiration: Disney's "Up" movie. The design: a tiny house made of wood, with a working light on the inside, and a balloon on top made completely of macarons (you kind of have to see it to believe it). In the "yard" of the house was a sign saying, "You are my greatest adventure" from the movie. Tracey's macarons are not only more delicious than LaDuree's in Paris (seriously, I've had enough macarons from both places to know), but this display was a work of art. We couldn't believe how much time, effort, and attention to detail The Painted Cupcake put into accomplishing our vision for this extravagant macaron display.
What are some tips you can share with other brides planning their weddings?
Anne: Three tips for other brides planning their weddings: If your husband is anything like mine and does not enjoy the wedding planning process as much as I did, designate a weekly day and time (ours was Sunday afternoons) to go over any details, plans, questions, and to-do's instead of constantly talking about the plans all the time. Having a set time helped me not overwhelm him in daily life and helped him give 100% of his attention and focus to wedding planning when it was our time for that. (We also read a few pre-marriage books and would discuss them during these meetings as well.) On that note, I loved that we read some pre-marriage books and then discussed them together. I realized that I had spent thousands of hours reading books in school to prepare for my career, so why not spend some time to prepare for married life as well? Some of my favorites: "Things I Wish I'd Known Before We Got Married" by Gary Chapman (the same guy who wrote "The 5 Love Languages"), "The Real Thing" by Ellen McCarthy (I even emailed her to ask a question about a seminar she mentioned, and she wrote back! How cool to get to tell an author you love her work!), and "First Year of Marriage: The Newlyweds Guide to Building a Strong Foundation and Adjusting to Married Life" by Marcus and Ashley Kusi.
In the midst of all the wedding planning, it was really healthy for us to make time to discuss deeper things and remember what it was all for. Over-plan and over-prepare in the months and weeks leading up to the wedding, then once your wedding week arrives, stop. Our wedding was on a Saturday. By the Wednesday before, all the planning and prepping was done. Family started coming into town that night, and Thursday I was able to just hang out with all the friends and relatives we had in town. Friday was the bridesmaid luncheon and rehearsal dinner, and Saturday was the big day. Because I didn't wait until the week of to finish any last-minute planning, I was able to be calm and fully present 100% of the time, enjoying every millisecond. It all goes by in the blink of an eye, so just soak in every moment. (Obsessing over every detail in the months and weeks leading up helped me be fully present, because I knew everything was ready to go, so I didn't need to stress!)
Is there anything else you'd like to share about your wedding?
Anne: We turned our wedding day into more of a wedding weekend, inviting all our out of town guests to our rehearsal dinner, which we hosted at my husband's recording studio, South x Sea, in East Nashville. I really loved getting to show our friends and family a glimpse of our lives in Nashville, taking them into a recording studio one night, and to the Country Music Hall of Fame the next! Our entire weekend was themed around music and our lives in the music industry, and we loved it. All our guests stayed at The Westin Nashville, and so did we for our wedding night! It was a gorgeous hotel, and our group sales coordinator, Jackie, was amazing to work with, hooking us up with a great group rate for the 25+ rooms our guests booked. (Even more, she upgraded my husband and I to the Broadway Suite as a wedding night gift! We felt like royals.)
So elegant, so timeless, so Nashville! Thanks so much to SheHeWe Photography for sharing this Nashville wedding with us and to the wonderful couple Anne and Brandon for sharing all the details about their day! We could not be more in love with every part of it!
Sources
SheHeWe Photography/Country Music Hall of Fame/Geny's Flowers/The Painted Cupcake/Nashville Ballroom