Calling all southern brides and grooms! Got your pinning fingers ready? This wedding is about to show you how to infuse western country touches into your Nashville wedding. Stylist Hailey and now hubby, country singer John Morgan tied the knot at Double Creek Farm. Their celebration was incredibly timeless with neutral colors and simple accents but came with no lack of western influences. Things like cowboy hats, bolo ties, and guest book of country music legends were noteworthy details along with the groom even writing a special song for his bride to share as their first dance. You may recognize these photos captured by Kayla Swayze from Hailey and John being featured on People Magazine. But just in case you need another reminder of the beauty of this wedding day, keep on scrolling!
Hailey + John
10.13.2022
Double Creek Farm ~ Culleoka, TN
Guests ~ 300
Tell us about your engagement!
Hailey: John proposed under a tunnel of Christmas lights in beautiful Highlands, NC on New Years Eve 2021 after a day of hiking and exploring his home state.
What was the vision for your wedding?
Hailey: Simple, timeless, elegant, with a western/country influence.
What was your theme and what inspired it?
Hailey: Timeless elegance with western touches. Neutral colors, classic florals, elegant silhouettes, with western/country touches scattered through out (like the cowboy hats and bolo ties, and the country music legends photo guestbook.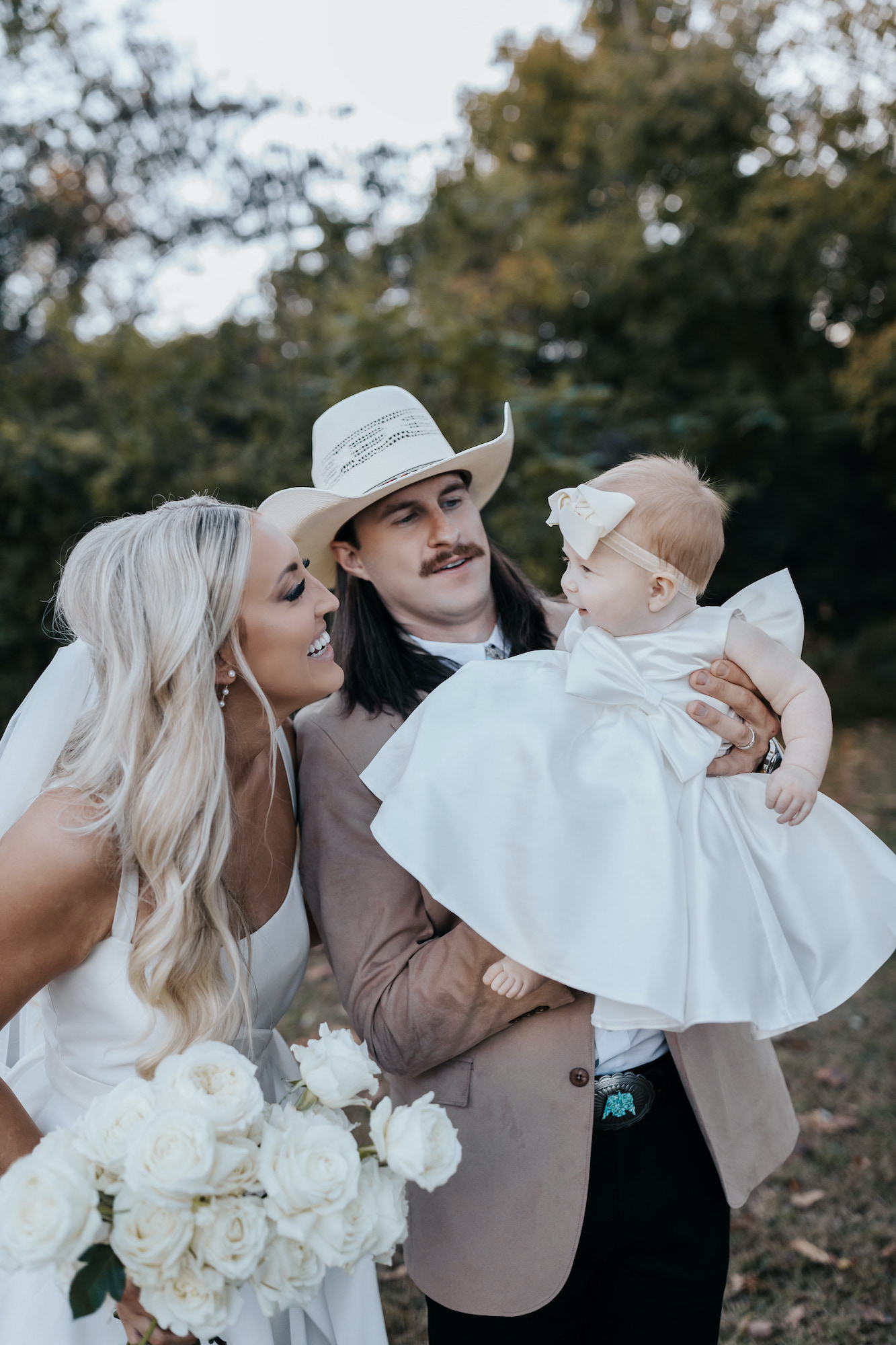 Can you share any special moments or highlights from your wedding day?
Hailey: Our daughter was able to join us on our big day as our flower girl. For our first dance, John surprised me with a song he had written for me.
What are some tips you can share with other brides planning their weddings?
Hailey: Do what makes you and your fiancé happy and don't let others ideas influence your decisions, because at the end of the day it's YOUR day and you only get one, God willing.
What a gem of a southern celebration! Thank you Hailey and John for showing us all how to infuse western country touches into your Nashville wedding.
Want more real wedding inspo? Right this way!
Nashville Bride Guide Directory Members
The below businesses are a part of the Nashville Bride Guide business directory. Visit their portfolios to learn more and inquire about their services.
Nash Taps
Food & Beverage
Credits
We've featured the below businesses on Nashville Bride Guide, but we don't know much about them yet. Featured below? Click here to get started.