Thinking of making the trek to an exotic destination to elope? Well, destination wedding and honeymoon planner Carlie with 2 Travel Anywhere can help! Carlie's years of expertise can help you get the BEST deal on a resort for your wedding or honeymoon. With Jennifer + Matthew, their wishes for a tropical elopement were granted! Sandals Barbados was their destination of choice and their all-inclusive wedding package was perfect for their simple, sweet beach elopement. See their full wedding and interview with Jennifer below!
Jennifer + Matthew
Sandals Barbados
Private Elopement
What was the vision for your wedding?
Jennifer: Simple. Private. We have a blended family and both work full time. We wanted our wedding to be about the two of us. We wanted it to be a time where we could relax and just enjoy each other. We love the simplicity of a beach wedding and we were able to add the element of elegance with the right dress and a few flowers.
What details were used to create your theme?
Jennifer: Sandals has done such a great job with putting together themes so it was as simple as looking through the look book and choosing pieces that went along with what we were imagining. The atmosphere on a resort/beach is so amazing I honestly did not want to take away from that with a lot of decorations.
Where did you splurge and where did you save?
Jennifer: We splurged on the experience. We chose the location because the resort was brand new. We upgraded to a package that included butler service so we could truly relax that week. I had a vision of a simple dress that I found online that was not even a "wedding dress". I spent less than $100 on my dress and it was exactly what I had imagined. We also splurged on a video package and pictures. We plan to have a small reception and want to show our friends and family our video.
What words of advice do you have for couples in the midst of their planning?
Jennifer: The wedding experience can be overwhelming. In the end, it is about the couple. I can honestly look back and say that our wedding was truly relaxing. We know that some people were disappointed with not being there but the wedding was for us and not them. Once friends and family saw how happy we were in our photos and video they understood why we chose to make it a private event.
Can you share any special moments or highlights from your wedding day?
Jennifer: The entire day was absolutely amazing because we were able to truly relax and enjoy each other. We loved working with the wedding team because they literally took care of everything. Getting to take pictures in the infinity pool with our wedding clothes on was such a unique experience- and honestly it was just a lot of fun!
Is there anything else you'd like to share about your wedding?
Jennifer: Go with the flow! On the day of our wedding the weather was not cooperating to have our ceremony on the beach so it was moved to the alternate location which was even better. Our photo session went over and we missed our reservation for dinner but we ended up getting to go the restaurant we thought had no availability that week- so in both cases the alternative was even better!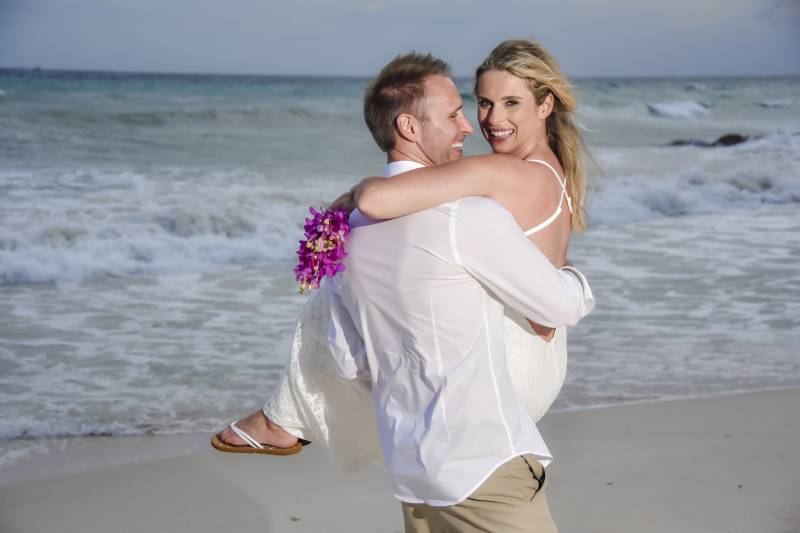 Thank you so much for sharing all about your beach elopement, Jennifer! I love how destination wedding and honeymoon planner 2 Travel Anywhere helped you make your wedding dreams a reality! You can check out more on 2 Travel Anywhere HERE. And also be sure to follow her over on Instagram!
Nashville Bride Guide Directory Members
The below businesses are a part of the Nashville Bride Guide business directory. Visit their portfolios to learn more and inquire about their services.
2 Travel Anywhere
Honeymoons
Credits
We've featured the below businesses on Nashville Bride Guide, but we don't know much about them yet. Featured below? Click here to get started.